SCATTING NOBILITY FIGURES SHOW 4. – 5. AUGUST 2018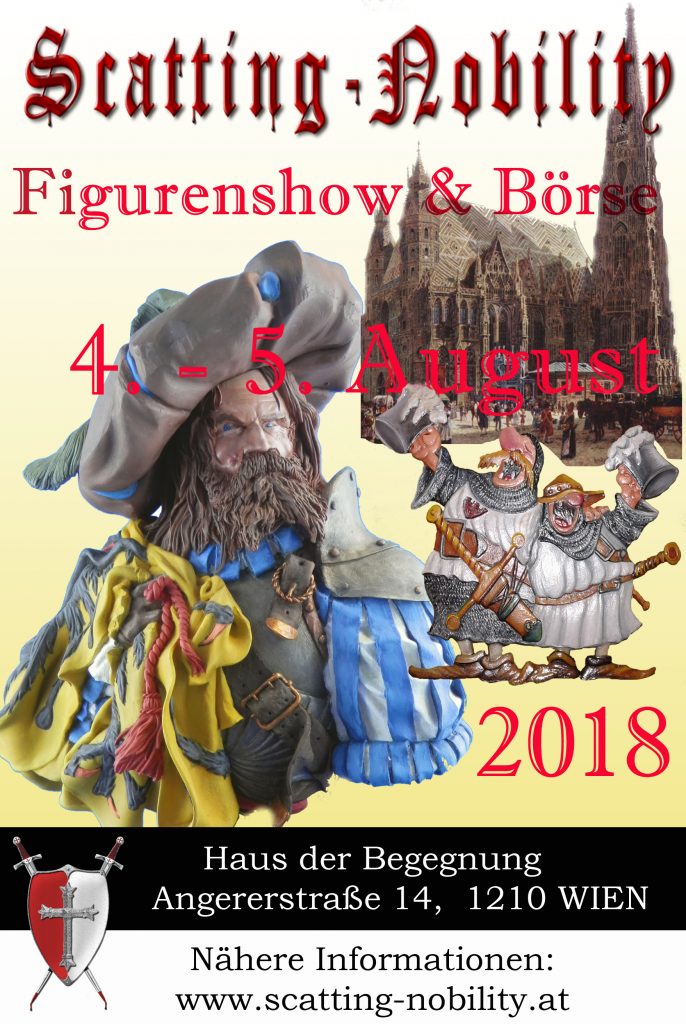 Danke an alle Mitwirkenden an unserer Show / Thank you to all participants in our Show!!
LOOK WHAT HAPPENED DURING OUR SHOW
HERE ARE THE PICTURES FROM THE COMPETITION
Photos by Michael Joannidis and Wolfgang Huttarsch for Scatting Nobility
Am 15. + 16. November 2014 fand im Messegelände in Ried/Innkreis die
MODELLBAUMESSE RIED 2014
statt. Wir waren auch dabei, und danken hier nochmals Gottfried Schachinger und seinen Modellbaufreunden für die freundschaftliche Aufnahme und die professionelle Veranstaltung. Viel Spaß beim Ansehen der Bilder, wir kommen beim nächsten Mal sicher wieder!!
Wir freuen uns sehr, dass wir einige Workshops gestalten durften, und gratulieren unserer Uli Sazma herzlich zu Gold für das "Wetterspitzen"-Diorama und unserem Karl für BRONZE für seine wunderschön bemalte "Indianer im Kanu" – Vignette!! Wir sind sehr stolz und freuen uns für Euch!!
Am 13. + 14. September 2014 fand im Heeresgeschichtlichen Museum in Wien die
VIENNA´S FIGURES SHOW 2014
statt. Wir waren dort ebenfalls vertreten und es hat uns viel Spaß gemacht! Viel Freude beim Ansehen der Fotos und bis zum nächsten Mal!  Herzlichen Dank an Lisa Gruber für die tollen Fotos!